Written by Fred Starkey

[A light in the firmament]
Remember the wax candle, the buggy whip, the washboard, the Edsel Car, the Rambler, and other products and industries that did not change as the economy moved forward.  They are gone. Were any tears shed?  Life moved on.
I have always been amazed how the free market brings innovation, creation, and progress. Hurdles are overcome by self-initiative and personal responsibility.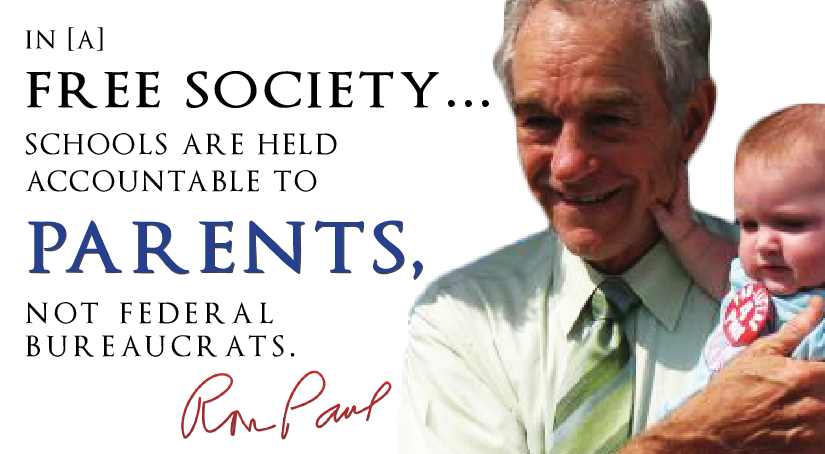 Today we are in the digital age.  Public Schools are still ringing their prison bells, forcing children to associate with complete strangers, handing out textbooks, and are ranked 26th in the world.  This is a documented record of failure.  The free market has brought a revolutionary new product in education.  It's the Ron Paul School Curriculum.
You can download the entire elementary school curriculum for FREE.  Why should we pay $10,000 a year for something you can get for FREE.  You can print out all the textbooks for FREE.
Other courses cost $50.00 each.  You can get an education for $500.00 per year.  Each student uses his laptop to load all course material with instructional videos.  These Courses are geared toward passing the KLEP exam which allows students to cover 2 years of college.   This means the poorest of the poor can go to college.   No more debt, except the debt from the school district for 20 years.
The school superintendent states she wants to help children: another politician?   We close the schools for one semester, saving millions, and then buy every student a lap top, a printer, and paper for learning and study.  Others can choose regular schools.
If we really want to help these students let's stop holding them back and let them work at their own pace. When they embrace this curriculum our costs will drop dramatically and so will our taxes.
Say good-bye to the Edsel and welcome to progress in the digital age.
Fred M. Starkey is a former Lead Long-Term Analyst for Shearson Lehman and American Express out of NYC. After turning down a lead analyst position with Merrill Lynch and Pru Bache/NYC, he was recruited by Stoltler and Company and moved to Oregon. He is now a private consultant to many firms involved in commodities and those involved in trading and investing: Banks, S&L's, Mortgage Companies, Grain Elevators, Cotton Mills, Growers, Merchants, Duck Farms, Soybean Crushers, Bullion Buyers, and much more. His financial acumen and 12 years of research into PERS have revealed the real truth behind what he calls Oregon State's "PERS Ponzi." A long-term resident of Springfield, Oregon, Fred has been married 43 years and is the father of six.
Fred Starkey may be contacted at: